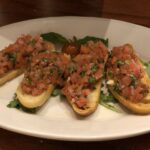 Bruschetta …$12
Fresh tomatoes, garlic, basil, olive oil and shaved grana cheese.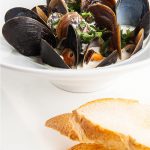 Clams And Mussels …$20
With garlic, white wine and tomato sauce.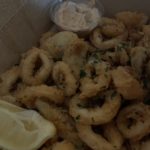 Fried Calamari …$19
With fried green beans and artichokes served with lemon caper aioli and homemade cocktail sauce.
Caprese …$15
Fresh mozzarella cheese served on seasonal tomatoes, slices with fresh basil, olive oil and balsamic redaction.
Beef Carpaccio …$18
Thinly sliced filet mignon, capers, red onions, arugula, Parmigiana Reggiano and whole grain mustard sauce.
Crab Cake …$20
Served over mix greens and sesame soy aioli.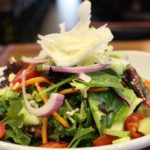 Mista Salad …$10
Served over mix greens and sesame soy aioli.
Caesar Salad …$13
Romain hearts, garlic croutons, classic Caesar dressing topped with shaved Parmigiano - Reggiano.
Warm Cabbage Salad …$20
Crispy pepper bacon, mushrooms, blue cheese, warm red wine vinaigrette.
Arugula Salad …$12
Sweet red onions, blue cheese, candied walnuts and white balsamic vinaigrette.
Vegetable Sandwich …$20
Grilled Zucchini, eggplant, bell pepper and mozzarella cheese.
Grilled Chicken Breast …$2
Sauteed mushrooms, tomatoes, red onion and romaine lettuce leaves.
Grilled Salmon …$25
Blackened filet of salmon, tomato, lettuce, and mustard aioli.
Linguini Seafood …$28
Prawns, scallops, rock shrimps, clams, mussels and fresh seasonal fish in spicy marinara sauce.
Paella …$29
Saffron rice clams, mussels, prawns, rock shrimp, scallops, chicken, andouille sausage and bell peppers in saffron tomato broth.
Ravioli Gorgonzola …$23
Ricotta cheese ravioli with mushrooms, fresh tomatoes and arugula in Gorgonzola cream sauce.
Cappellini Pomodoro …$20
Angel hair pasta, fresh tomatoes, basil, garlic and extra virgin olive oil.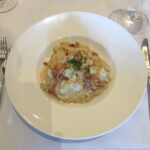 Roma Fettuccini …$25
Fresh homemade pasta, sautéed rock shrimp, bay scallops, sundried tomatoes and light roasted garlic cream sauce.
Gnocchi Pesto …$22
Homemade gnocchi with pine nuts in pesto sauce.
Spaghetti Bolognese …$22
Prepared with traditional meat sauce with spaghetti pasta.
Penne With Chicken …$24
Sauteed with sundried tomatoes, sweet corn, marinara, basil pesto, cream.
Linguini Vongole …$26
Linguini pasta with clams in a garlic white wine sauce.
Spaghetti Pollo Picante …$22
Chicken, fresh tomatoes, sautéed garlic in spicy marinara.
Sausage Rigatoni …$23
Andouille sausage, sweet bell pepper, red onion in light tomato cream sauce.
Veal Picata …$35
Served over garlic mash potatoes, sautéed spinach, capers, garlic white wine sauce.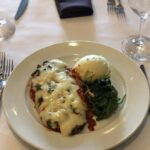 Chicken Parmesan …$27
Served with mashed potatoes, sautéed spinach and light marinara.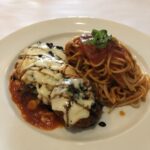 Eggplant Parmesan …$25
Served with balsamic reduction, spaghetti pasta and marinara sauce.
Marinated Teriyaki Skirt Steak …$45
With garlic mashed potatoes, mixed vegetables topped with onion rings.
Grilled Salmon …$32
Served over Yukon potato hash, sautéed spinach and topped with lemon caper aioli.
Mediterranean Prawns …$35
Mixed with cherry tomatoes, feta cheese, green onion, black olives garlic wine sauce side with mashed potatoes and vegetables.