Sundeman 20 Years ...$18
Sundeman 10 Years ...$12
Dow's 20 Years ...$18
Dow's 15 Years ...$14
Fonsecca Downy ...$13
Classic Italian Tiramisu …$10
Lady finger cookies soaked in brandy and espresso with mascarpone cream.
Mango Panna Cotta …$10
Slightly sweetened with a perfect hint of tartness from mango.
Bread Pudding …$12
Maple Brandy Sauce with crème anglaise and vanilla gelato.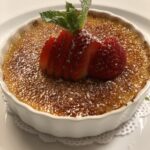 Vanilla Crème Brulee …$12
Rich custard base topped with a texturally contrasting layer of hardened caramelized sugar.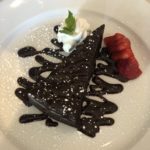 Flourless Chocolate Cake …$9
Gluten-free, rich, deep-dark flourless chocolate cake.
Gelato …$10
Vanilla, Chocolate or Spumoni.
Irish Coffee ...$8
Caffee Americano ...$4
Cappuccino ...$4
Espresso Martini ...$12
Marocchino ...$5